My Fave Five Finds for Mom's and kid's...
I decided to follow up my Fave Five for Mommies and babies post with a post that showcases my top picks for kids who are a bit older.
Two of my three are officially in the "kids" category at almost six and seven, and if your kids are out on spring break this week like mine are, you too may be desperate for anything that may give you five minutes of semi-quite. Here are a few of my recommended "necessities" for any mom.
Buy yourself a good camera. I know that many of you may have done this the second your little bundle of joy arrived but if not, don't wait, do it now. I actually think it is more important to me now than when they were babies. They sat still a lot as little ones but now it takes a good camera to catch all those running, jumping, happy memories.
If you are ready to pull your hair out starting to feel the stress of an entire week of Easter candy fueled fun, this is a fab way to distract your kiddies while working out their imagination. There
is one for boys and one for girls and they are filled with pages
of prompts for kids to fill with their own masterpieces.
The pages are fun
things like this (for boys)
Get a membership to your local children's museum, zoo, or aquarium. This one might hurt a bit when you cut the check but trust me you will use it so often if you know you can go for just an hour or two because it's "free" and you can always come back another day to do the rest. Plus most memberships come with the added bonus of getting in most other children's museums around the country for free or for a discounted rate. This works out great when you are on business trips with the Hubbs or visiting Grandma.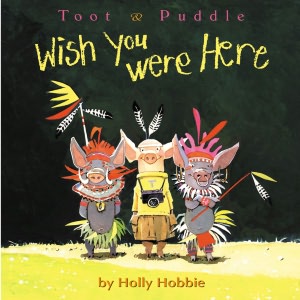 I read to my kids all the time and have since they were little. If you are looking for a good series for kids about age 3-8 I highly recommend the Toot and Puddle books. These piggy brothers are cousins to Opal the pig (maybe you've heard of her, she has a book series of her own) and they get into lots of fun and funny mishaps. (A little secret...I like these books as much as the kids).
If you can find the space (
anywhere
) make a playroom.
This one is for little ones and moms alike. I was anti-playroom until about two years ago. I had this idea of the kids playing on hand woven rugs in their rooms and enjoying their own little part of the world. The reality was I was constantly stepping on little pieces of toys walking across those rugs on my way to tuck them in every night. Playrooms can be a bit messy and no one cares. Plus you can fill them up with storage and teach your kids to, at very least, stuff whatever they were playing with in a bin before moving on to the next activity.
Hope this list will help you survive spring break week and give you hope as we all move together towards that never ending heat stroke joyous free time with our kids that is summer.
Praying for patience ASAP
(As Southern As Possible)