He asked...you said yes! Time to buy THE DRESS. YAY!
Right about now your soon to be Mother-in-law announces that they are having a sale at a certain national chain bridal barn. Your own mother, sister and supposed best friend, turned traitor, all agree that you should make an appointment to go look this weekend. NOW IS THE TIME TO RUFFLE A FEW FEATHERS!
This is a big decision and one that you have to own for the rest of your life. I don't necessarily mean literally own, seeing as more and more brides are donating their gowns, selling them, or simply trashing them in a trash the dress photo shoot after the big day. What I mean here is that in two years, ten years, even FIFTY YEARS from now people will see your wedding photos and there you will be, in THIS dress. (As if you were not already feeling nervous enough about the whole thing.)
First off let me start by saying that there is nothing particularly wrong with buying your wedding gown from a chain store. But I do want to emphasize that now a days a bride has CHOICES!
Here is a gown from Oscar de la Renta's Fall 2011 collection that I LOVE. "Oscar" is on of many designers who design couture gowns and offer a RTW bridal line.
If you are imagining a savory meal under a star lit sky
kind of a night, with your handsome groom, in his bow tie, swirling you around the floor to the sounds of big band music, a gown with an vintage flare maybe right for you.
Here is a Monique Lhuillier with 1930's appeal I found at a fabulous vintage bridal store called The Vintage Bride. Added bonus it is priced at only $650!
If you are a girl who is looking for something truly original for your wedding day, Etsy has a slew of designers waiting to customize a gown just for you. Here is a personal fave by CLF from clare la faye.
and let us not forget that our beloved Anthropologie has started its own wedding inspired store BHLDN. Could you ever go wrong with ANYTHING Anthro?
Prone to my love of ruffles this dress makes me swoon.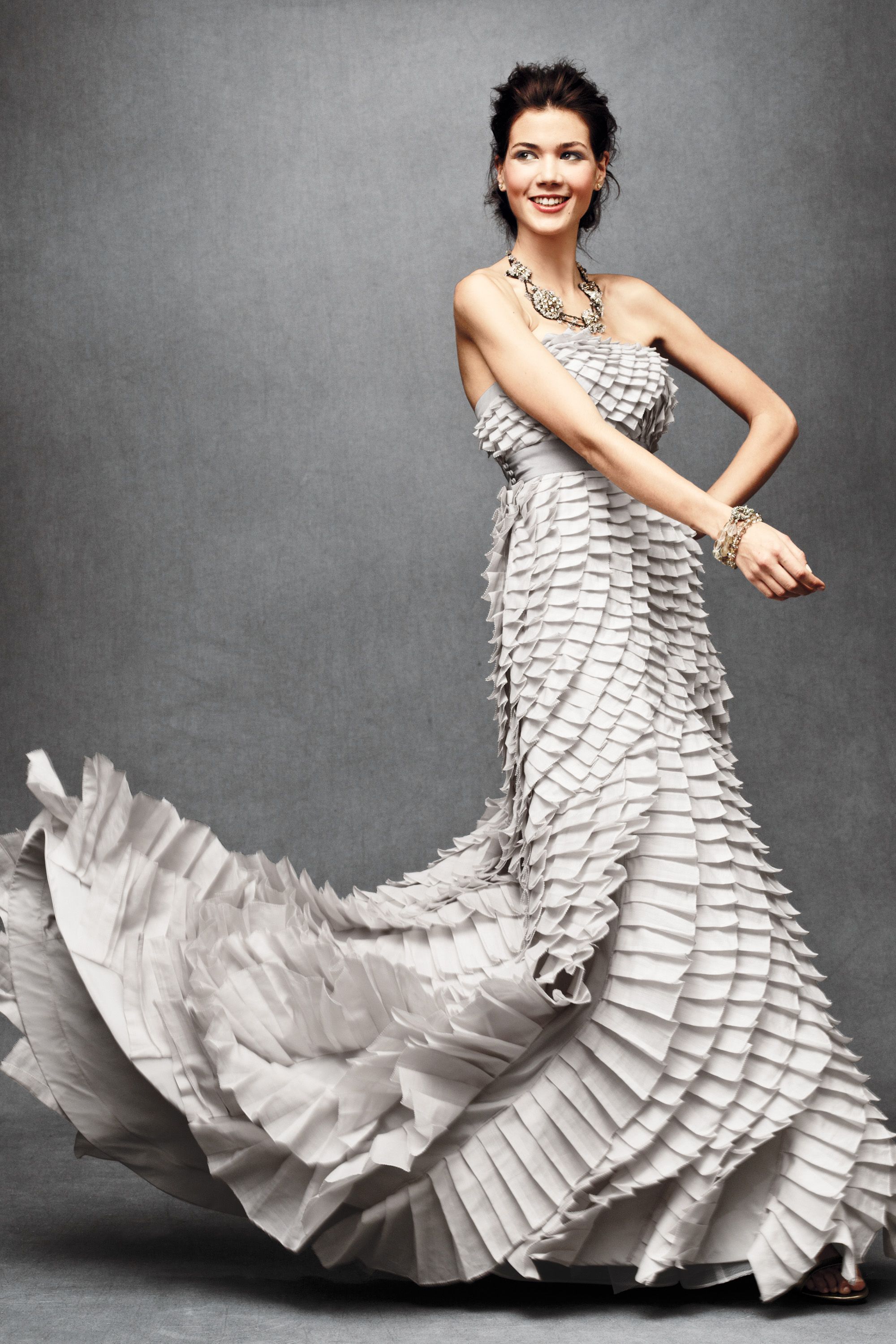 No matter what your style or budget there is a whole world of dresses out there just waiting to be tried...so take a deep breath, find a friend whose style and opinion you trust, and go find your dress!
A.S.A.P
(As Southern As Possible)
Amanda