A little note that had a big impact...
Several months back I was going through an incredibly hard time in my life. I had been faced with something I was not prepared to deal with, and I needed my friends. I leaned on my YA-ya's because they always have my back.
They were all so supportive and offered me love and prayer and a shoulder to cry on if need be.
(which need was...more than once.)
However, when visiting one of my besties, Christine, in Charlotte last Oct., I saw this note on her fridge...
"Send Love to Amanda Everyday".
The note was so simple and yet it spoke volumes to me. We were hundreds of miles apart, living in two separate states but I felt closer to her and all my girls than ever.
Friends are important wether they are mommy friends (who help you see you are not as crazy as your kids make you feel sometimes), or couple friends (The kind you get together with and hang out as a couple or family), or even girlfriends (who laugh, and shop, and eat chocolate chip cookies with you when you need some "me time"), but there is nothing in the world like the people you know you can count on when it all comes crashing down.
Tiney has been going through a bit of a hard time lately and this post is just my small way to say....Your my soul sister,ya-ya, bestie forever...&
I am sending you love today and everyday.
Linking up to Thankful Thursdays because I am
oh, so thankful for my Tiney
{Click the button if you want to be cool and link up too}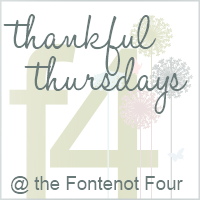 (As Southern As Possible)